If you want a reliable and safe car that performs well, it's important to look after it through regular servicing. Missing a car service to save money can be a false economy and could cost you more in the long term, as minor problems left unfixed can lead to major repairs. At Burnside Motors we aim to educate our customers about the condition of the vehicles they are driving to ensure the safety of the customers and their family members, friends and other road users. We have a policy to only replace what has to be replaced and to keep customer informed about repairs that are due or items that are unsafe.
We are passionate about providing genuine customer care by going out of our way to treat every customer as if they where family, offering, honouring and delivering to our customers the most professional services with respect and courtesy at all times. We ensure our loyalty to our customers by giving our team opportunities to all available training in our industry.
We offer our customers high quality servicing including:
Vehicle logbook servicing
Pre purchase vehicle inspections
Mechanical repairs
Vehicle electronic diagnostics
Authorised QLD safety certificate inspections
Vehicle fault light diagnostics
Vehicle brake repairs
Vehicle brake repairs
Vehicle clutch repairs
Suspension repairs & upgrades
Wheel alignments
Exhaust repairs and upgrades for 2wd/4wd
Radiator and cooling system repairs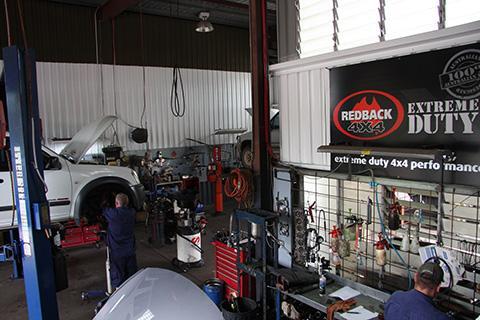 Burnside Motors opened in 1976 and has been owner operated by Peter Williams since 2003. Peter and long time staff member Mal James have both been working in the automotive industry since the 1980's and bring you expertise in exhausts/suspension and general mechanical repairs. Burnside Motors is a locally owned business, and has been looking after a long list of local families vehicles, for many years. In fact they now look after the children's vehicles of those families. Why not join the Burnside family and get YOUR vehicle serviced by the experts?
BRAKE SPECIALISTS
BRAKE SAFETY
The safety of you and your passengers revolves around three main factors, Tyres, Suspension & Brakes. All equally important for obvious reasons. Don't wait for your brakes to grind, squeal, vibrate or pull to one side before taking action. Give us a call for a brake safety check. We will assess your brake system, & run through any repairs or maintenance required.
PADS & ROTORS
There are a number of components in a brake system that need regular checking. The most obvious are the brake pads, or in the case of brake drum assemblies the brake shoes. Next are the rotors, or drums. Not only do the rotors wear, they can also lose their shape. Rotors can be machined to save money provided we maintain the correct tolerances.
HYDRAULICS
Other brake components are the Wheel Cylinders, Master Cylinder, Brake Hoses and Brake Calipers. Not only can we check these parts, Burnside Motors can diagnose problem components and repair or replace them as necessary. Finally there's the brake fluid which should be flushed and replaced every 2 years for optimum braking performance.
Regular safety checks and professional maintenance of your brake system are essential.