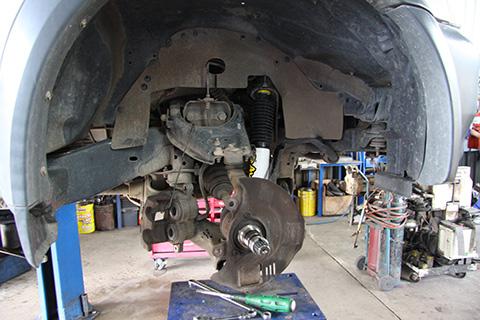 4x4 vehicles require a specialist kind of suspension that's a little different from that of a regular passenger vehicle. Often 4x4 suspension will come in a kit, and the right kit will depend on the requirements of the vehicle and the vehicle's owner.
Some advantages of specialist 4x4 suspension kits is they can:
Improve riding comfort
Enhance the vehicle's handling ability
Improve safety
Increase the towing capacity of the 4x4
Increase the 4x4's load capacity
Improve overall aesthetics
Enhance vehicle stability
Increase ground clearance for off-road driving
Enable the 4x4 to better handle harsh Australian conditions
Your 4x4 Suspension Needs To Be Legal In Australia
If you plan to change out your own suspension and you were to source and purchase a 4x4 suspension lift kit online from an overseas website, it may not be legal to use in Australia. This is something you need to be mindful of.
Different countries have different rules and laws when it comes to a vehicle's suspension, so if DIY is your plan, make sure the lift kit you purchase is legal to use on a vehicle driving on Australian roads. If it's not, you'll end up incurring a fine and likely have your 4x4 impounded until you can get the car fitted with a legal suspension lift kit.
Just because a suspension or lift kit is okay to use in the United States, for example, that doesn't mean it's automatically compliant with Australian laws.
The best way to be absolutely sure is to have a local suspension specialist supply and install the right kit for your vehicle. They'll make sure you're 100% compliant.
Different Types of 4x4 Suspension Lift Kits
4x4 suspension lift kits generally come with the following components, depending on the type of kit you choose:
Shock absorbers
Coil springs
Leaf springs
Bush kits
Strut caps
Shackles & pins
4x4 suspension lift kits are designed to give your precious vehicle more ground clearance when driving on uneven surfaces in off-road conditions. If all you do is city driving, then a lift kit is not necessary, but is absolutely essential if you plan to go off the beaten track.
To really thoroughly enjoy an off-road or outback driving experience, you want to have the confidence that your car's suspension is up to the task.
Another popular form of four-wheel drive suspension is air suspension. This enables the driver to raise or lower the height of the vehicle as required, by increasing or reducing air inside the suspension bags.
The Cost
Some 4x4 suspension lift kits are relatively cheap, but many can cost upwards of thousands of dollars. Sure, you'll save yourself some cash by installing the suspension lift kit yourself, but unless you really know what you are doing, and also know exactly how to fine tune it for optimum performance once it is installed, you may be in for a very bumpy ride.
For a little extra you can both purchase and have your 4x4 suspension lift kit installed by professionals, giving you complete peace of mind knowing the job has been done right.
Read about our Suspension Installation, Repair and Service >